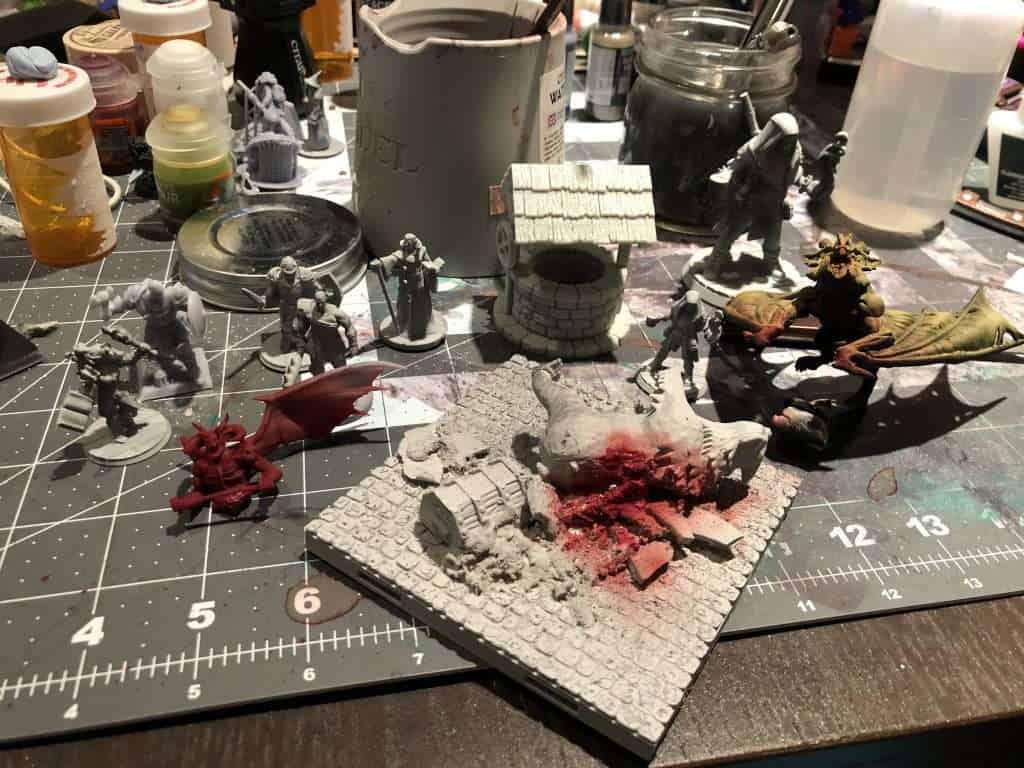 3D Printing in Resin or FDM/Filament – Which is better for D&D/TTRPG/Miniature Wargaming?
If you follow me on social media, you might have noticed a lot of the making I do is oriented toward Dungeons & Dragons, Warhammer, and other table top roleplaying and wargames.
As well as being a source of social contact (being a nerd who works from home, this is something I have to work on), it also allows me to utilize many of my other hobbies, such as drawing, writing, laser engraving, painting, sculpting, and of course 3D printing.
I am fortunate in that I have so many 3D printers. In fact, I donate my spare 3D printers when I get to the point that I have too many.
You are probably not in that lucky position, so which should you go for?
Just starting out?
If you have never 3D printed before, and this is your first 3D printer, I would recommend going with a filament 3D printer (FDM).
The reason I suggest this is the learning curve is potentially (and I will get into why) a little easier, a touch more convenient, and the total cost of ownership a little cheaper.
A good FDM 3D printer can now print everything from miniatures through to large terrain pieces, and even accessories such as dice towers.
While the finish on a resin print will be by default visibly nicer, the build area will be much smaller, and the cost of the prints will be higher when taking into account consumables and your own time.
If you have the budget, and are willing to learn both approaches, then get both!
Printer Price Comparison
Speaking of budget, how much do they cost?
For budget printers you would be looking at:
The current FDM darling of the TTRPG scene is the Ender 3, and that can be found for around $200 USD.
Elegoo Mars resin printer runs at around $200-$300, with the Photon S a little more.
So you could have both for approximately $500-$600 USD. Remember to add consumables, so take into account the price of filament, and if you do go for resin, also add isopropyl, nitrile gloves, etc.
If you want an easier time, and less of a tinkering experience, then Prusa Mk3s is the best under $1,000, but they just announced a new, cute looking machine, the Prusa Mini that could well be ideal for small prints like we make in this niche.
Prusa also sells an advanced resin printer, called the Prusa SL1. I haven't yet gotten my hands on one. Seems from what I can glean a great printer, but it is a lot of money in comparison to the Mars so you definitely would need to value that convenience.
Consumables Costs
Once you have your FDM printer and things like a scraper, all you really need to buy is filament. Yes, I recommend isopropyl to clean your printer bed, but other people happily use other cleaning supplies that you might already have around the house.
With resin, there is the higher cost of the resin itself, and then you will need isopropyl in larger quantities, or some other cleaning agent, to clean the printer, the vat/tank, and the models after initial curing. You will also ideally be wearing disposable nitrile gloves, and a mask.
Learning Curve
One of the things that makes learning FDM just a little easier, is you can see the progress right in front of you due to the fact you don't have tinted perspex or a resin vat blocking your view.
Also when a print fails you can pick it up with your bare hands and throw it in the trash (yeah, sorry – wish recycling this stuff was more of a thing).
Once you have a good profile for your FDM printer, and your bottom layers look good, things tend to get steadily easier from there.
With resin, there is the goop and mess that is bad for you and the water table, plus each resin you use (even different colours from the same supplier) can require new settings dialing in.
On a FDM printer, if your bed is not level you might lose a print or at worse lose a print and scratch your bed with the nozzle. Resin, however, can fail so bad your LCD screen breaks when the Z homes.
Also the slicers for resin still haven't figured out how to do auto supports yet, so many of your prints will fail due to inadequate supports unless you get good at adding custom supports.
When you get full or partial failures, that means cleaning the partially cured resin pieces out of your tank and off the FEP. Scraping your FEP can make holes. Any leaks are a PITA to clean up, and can damage your printer or more.
Even when you do get good at custom supports so the prints don't fail, there is an art to supports that don't need a lot of surface clean up, but that is true of FDM also.
Pros and Cons of FDM
FDM Pro
Less mess and stink
Cheaper process
Print larger
More options
Watch the process
Well-understood
FDM Con
Visible layer lines
Less detail even with small nozzle size
Frustrations (nozzle clogs, bed leveling, filament tangles …)
Slow to print in detail
Resin Printing Pros and Cons
Resin Pro
High resolution output
No visible lines
Speed dictated by height (print full bed in same time as one item)
Resin minis feel like commercial mins
Resin Con
Resin is nasty (don't get on skin or breathe it)
More involved process (trimming, curing, cleaning, washing)
Waste disposal (do not flush waste into drains)
Popular printers have small build areas
Cost (Resin is expensive, plus cost of gloves, isopropyl)
Bottom Line
If you are starting out, go with the best FDM you can afford.
Both FDM and resin are complimentary, so together is best.
Resin produces the nicest results, FDM is less messy/nasty.