Flux Beamo is a small, enclosed 30w CO2 laser engraver, currently launching on Kickstarter.
I received one to review, and just put it through some early tests. Here's what I discovered …
Clearly, my review machine is not going to be the full experience. My instructions were not in English and a lot of the features are being worked on, so this is not a review of the beamo, but a first-look.
Beamo Versus K40 Laser Engraver
The Beamo is a small 30w CO2 laser engraver, so the obvious first comparison is with the classic K40-style laser.
My K40 before upgrades cost me less than the Beamo is currently going for on the Kickstarter ($800 as I write this), and the final RRP will be around the $1,500 mark, so in terms of raw price, there is no competition – you won't beat Chinese import prices on any of these more user-friendly machines.
While the K40 is billed as being a 40w, that's not always what you get. I know mine didn't come with an actual 40w laser but something in the 30w ballpark, and in fact, many suppliers do not stock a 40w tube that will fit into an unmodified K40 case.
The marketing describes the Beamo as
"beamo, a powerful laser with the smallest footprint ever."

Flux Kickstarter
In reality, while it is smaller by a couple of inches in all dimensions, by appearance it's a similar footprint to my K40. Despite being smaller, it actually has a larger usable engraving area than the K40, at 11.81″ x 8.27″.
A fun aspect to the usable area on the Beamo is the floor is removable, meaning your Z height can be very flexible given some juggling of your work area. Right now, though, the laser head can not drop more than an inch or so to focus, so an adapter would be required to make use of materials that are larger than the X/Y dimensions.
Like the K40, the laser is mounted at the back and requires mirror alignment. My Beamo arrived all perfectly aligned and ready to fire.
Engraves and cuts are in practice roughly the same or faster than the K40 (which also confirms for me that my K40 did not have a 40w laser!).
Build-quality is definitely a notch above the K40, and looks and feels much more polished, particularly where UI is concerned, having the colour LCD touch screen.
Beamo Versus Glowforge
The Glowforge basic is 40w, so there is a cutting ability advantage there, plus a bigger work area. Even at final release, however, the Beamo will be $1,000 cheaper.
Just like Glowforge, the Beamo has an onboard camera, the ability to trace and cut, and wifi-based operation.
Unlike the Glowforge, the camera is moved around the scan area to get a non-distorted view. One of the technical aspects of the Glowforge that took a while for them to figure out was converting the fish-eye view into a usable preview, this gets around that neatly, while not being quite as fast.
You can use the preview to lay out your engraves and cuts, or to scan and trace. In my tests it helps if your design is not reflective, and use the built-in calibration feature to dial in the accuracy.
In the earlier version of this article I said my camera did not work. Turns out it was my crappy wifi at fault (it didn't reach far enough into the garage). A little workspace reorg and now it is working fine!
Unlike the Glowforge wifi "in the cloud" operation, the software is a desktop application that communicates over your local network just for sending jobs.
(The machine comes with a USB wifi adapter to plug into one of the two USB ports)
Presumably, as the machine has an ethernet socket, you could use a physical connection or even a network patch cable between your laptop and laser instead of wifi too.
Where the Beamo outshines the Glowforge is on speed.
It's faster, and has the option to increase the speed on demand. Scores are blisteringly fast and engraves are significantly faster at higher multiples while still maintaining crisp lines and accuracy.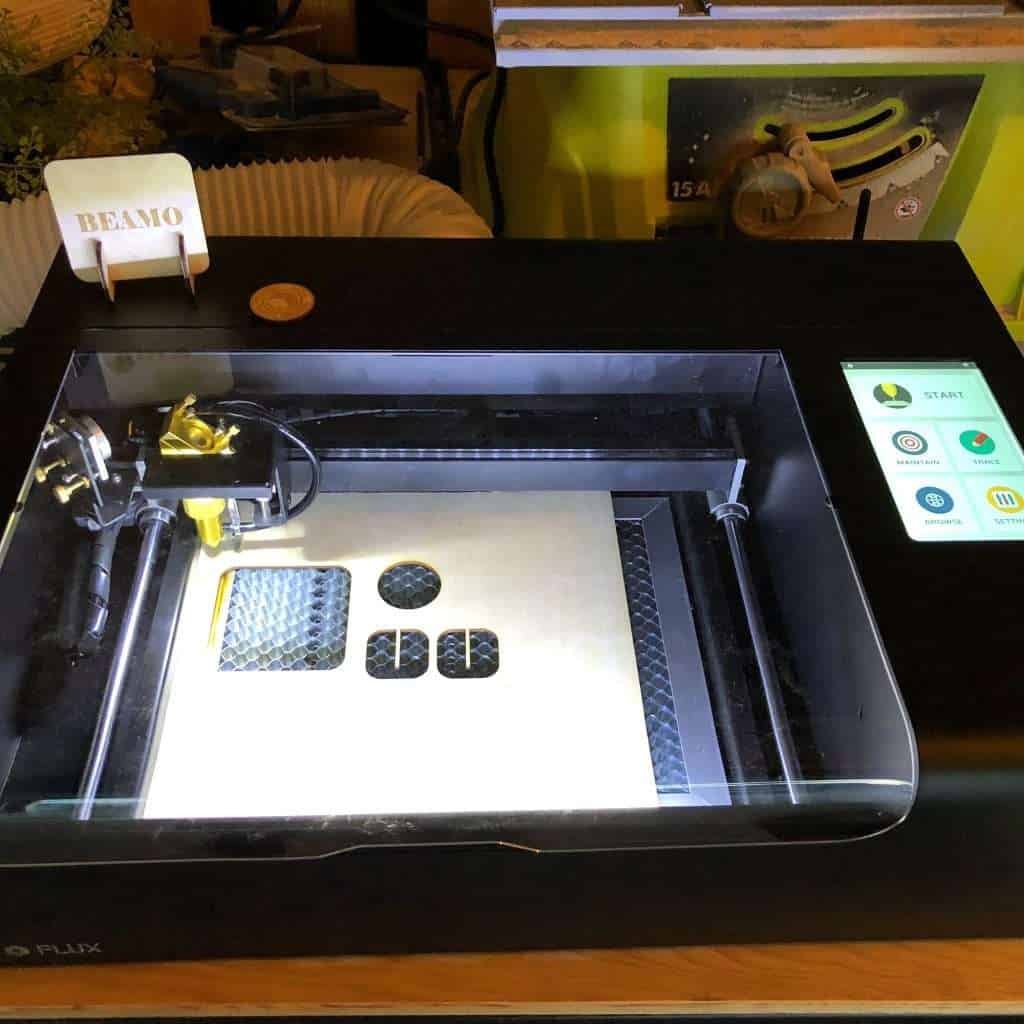 The Beamo certainly feels in a similar league to the Glowforge, though beyond that I think it is a little unfair to compare a more mature product to one that is still in Kickstarter. Probably best to wait until the actual release product rather than my review model!
Beamo Software and Usability
I upgraded my K40 controller board just so that I could use LightBurn software to run it. Beamo comes with custom desktop software that can communicate with the laser over wifi.
While the software is not as fully-featured as LightBurn, it is more feature-rich than the web based tools that Glowforge offers, and it does everything you really need.
To set up a job you can create shapes/text etc separated into operations using colours and layers very easily, and of course import graphics and projects already created in Illustrator/Inkscape/CAD. When importing it will ask if the layers should be imported or interpreted from the colours. Nice touch.
Strangely, the machine has a really nice colour touch screen, but no jog controls, or any way to do test fires/runs. That said, it is still under development – everything but Wifi settings seems to be 'coming soon'.
There will also be a trace function that uses this feature and a forthcoming mobile app.
Rather than a bed that raises and drops, the Beamo manually focuses using the laser head up and down motion. I found it accurate enough in my testing that I wasn't worried about losing power. There's also apparently an auto-focus add-on sold separately.
First Impressions Conclusions
The Beamo is easy to use and performed well with all the materials I tested (1/8″ plywood, MDF, and acrylic). Right after powering up and hooking up the vent hose I made a little sign with legs to help it stand up. No need to even check the instructions (which is fortunate seeing as they were not available in English yet – release versions will obviously have English printed instruction books).
I like the Beamo a lot, and am looking forward to future updates. Under the hood is a Raspberry Pi, so I am sure as well as official updates there will be community hacks also.
The biggest test of a tool is will it get used after the review. My answer is absolutely. While it is not the only new laser I received this week, it now has a permanent home in my workshop.
Get More Details
Check Out Beamo on Kickstarter Now