2023 Update
Quite a different list now compared to past years, particularly because of our big move back from Canada to the UK.
Machines that are no longer with us but are still working great …
---
---
Past Tools
I stopped counting all the printers that passed through my shop, and really I need to rebuild this page from scratch because it no longer does what I intended!
---
People keep asking about the gear I use, so here is a page that I will keep updated with some brief notes and recommendations. As I create larger resources I will link out to those from here so you can get the TL;DR or dive deeper if you want the details.
3D printers I used to own and use
Get a guided tour in this video then check out the details below:
Makibox – Not recommended, now just parts. This was my first 3D printer purchase and, on balance, I knew it was a gamble. What tipped me over was receiving an affiliate commission for the same value as the offer. Seemed like fate! Heated bed, Marlin firmware, compact enclosed design. The people who saw the prototypes in person said the output was remarkable. It turned out to be a successful Kickstarter but failed business. Aimed at being the cheap printer for the bottom of the market, I think their aim for low prices hurt them with parts, suppliers, and quality control. I understand their remaining stock got transferred to a creditor who is attempting to sell it off. I gave up on it, ordered the Printrbot, and am slowly turning some of the parts into a useful printer as an experiment.

Printrbot Simple Metal – Recommended. I consider this my first real printer. Originally built from a kit and then over time I upgraded X and Z axis. Built like a tank and super reliable. No heated bed. Printrbot is a great company headed by a smart and cool founder. They have excellent customer service and really care to make things good. They have proactively sent me replacement parts without prompting because they want you to succeed. Everything is high quality and USA manufactured (seriously, they are one of the very few with their own fabrication).

Cube3 – Proprietary so not recommended. Mine is out on long term loan to a friend. Small print bed but the most accurate, high quality, and kid-friendly dual extruder printer I have seen, with very convenient high tech gizmos like actual auto bed levelling (rather than bed level compensation) and auto z-gap (really neat), but everything is proprietary from software to filament annnnnd they just left the consumer market entirely. Who knows how long you will still be able to buy the DRM chipped filament? Suffers from jams that damage the bowden extruder tube, making the reel useless. But fortunately part of the increased cost is the hot end nozzle and bowden tube are part of the reel and are seen as disposable consumables. Filament is $60 for half or less material than you would get from, say, Hatchbox. So like 4x expense. I therefore only print tiny detail parts that MUST be dimensionally accurate on this machine. Came with a USB key containing docs etc, a scraper, glue, printed manual, and was beautifully packaged. Very nice unboxing and onboarding experience.

Wombot XL – Full Wombot XL review – TL;DR I would not recommend this machine personally, though others do like theirs. This machine cost me $1,100 CAD delivered to Canada. Nice size 10″ x 10″ heated bed. All metal no-name hot end (I replaced the nozzle tip with a Micro Swiss so I can print abrasive filament on it). All generic open source, based on the same electronics and hardware you can get on eBay and Aliexpress, Arduino+RAMPS with Marlin (even the frame is 3030 aluminium extrusion) and it's built with 3d Printed parts. Customers who bought after me now get more robust ABS printed or injection moulded parts and marginally better packaging, judging from Joel's recent unboxing video. They also get a change of Y end stop location, and a BLT auto levelling sensor. When it works it is a decent machine apparently, especially if as a customer you are based in Australia. I wanted a completely open source printer that I could work on myself (after the Cube3 experience) and that is what I got. Unfortunately it arrived severely broken and took me 11 months to get working correctly (thank you to the extremely UNofficial Wombot Facebook group, without whom this printer would have been broken up for parts months ago) to have it working (he did refund me $20~ for the bent threaded rods). I replaced the crappy inductive sensor that never worked with a manual switch as the end stop and now level manually, most of the parts I had to print in ABS, or buy replacements, and the Arduino/RAMPS fried. Really it's not strictly a Wombot any more. While fighting this "Australian" machine, I replaced this machine with two Prusa i3 based machines, the fantastic Wanhao and the almost perfect Josef Prusa's own Mk2.

Wanhao Duplicator i3 – Full Wanhao Di3 Review here – Highly recommended for anyone on a budget.
Due to the Wombot being out of action and still wanting to create a BB8 I ordered this machine in desperation. This is, as the name suggests, a Chinese Prusa i3 variant. My budget was spent on the Wombot so I could not set my sights high, but I couldn't buy a cheaper kit as I was running out of time. It's aimed squarely at the budget audience (a market it is quickly dominating), but don't let that fool you, quality is not really that compromised and in some ways is superior to more expensive competition. Literally under 30 minutes after getting it out of the box (which contained a SD memory card, USB cable, quick start guide and a scraper) I had it printing beautifully. This is something only the Cube3 can also boast but the Cube was double the price. Yes, the Wanhao machine is $550 CAD delivered as opposed to upwards of $1,100. Out of the box it prints well, with the community created modifications it goes from good to excellent. Half the price of the Wombot but 1000x better unboxing, customer service (via my Canadian reseller, DigitMakers, and the Chinese HQ) and first print experience. Heck, it actually works and I haven't yet had to repair it!
Original Prusa i3 Mk2 – Full Original Prusa i3 Mk2 Review here – Highly recommended kit, or for those looking for advanced features
I built this as a kit and despite my lack of skill in that area, I couldn't be more pleased with it. It's quality from start to finish. Night and day experience compared to some other printers. This is now my go-to printer to recommed. It prints very well, with the genuine E3D v6 hot end, and prints stick well on the PEI print surface. Highly recommended.
TEVO Black Widow – 370 x 250mm build area kit for those on a tight budget – Recommended for people who need the build area and are willing to put in the effort. Purchased as a bargain/gamble and it paid off! 🙂 Obviously not up to Prusa i3 Mk2 standards, but nor should you expect it to be. Does beat it on build area and price though, so if you are up for a challenge, check it out.
Creality CR-10 – Highly recommended for anyone wanting an almost ready to print, large format 3D printer at a fraction of the cost of competitors such as the gMax and Wombot Modus. I bought the 300mm x 300mm version, and it prints beautifully. Also available at a couple hundred more is 400mm and even 500mm wide beds. Full review and video here.
Creality CR-10 S5 – The big brother to the one above, weighing in at 500x500x500mm build area! Highly recommended if you need that capacity.
Anet A8 3D Printer Kit –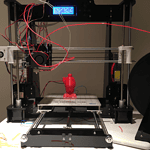 This $200 USD (or less!) 3d printer kit is amazing value. I was sent this guy to review from Gearbest, and I have to admit I was skeptical, even though I had heard of it through its positive reputation. In practice is it the best printer in this list? No. But for the price, the experience/education you get from the build, and what you can upgrade it to in time? Fantastic. It's a kit, and acrylic, so take it steady. A weekend is a good amount of time to plan for the build, then spend time tuning and upgrading. Check out my full Anet A8 review and video here.
Mini Kossel – Cheap aliexpress kit, don't expect too much. Good learning experience if you particularly want to build a delta … but the A8 is a better deal all round.
Biqu Kossel Delta – Large, prosumer-level delta for a budget price. Excellent output quality once you build and dial it in, with the support of the growing community.
Tevo Little Monster Delta – HUGE delta, great value for money and beautiful output. Sophisticated features tip this over the edge for me if you are looking for a delta.
Athorbot Buddy Couple – This machine is a dual-extruder 3d printer (bowden) with a single nozzle, which means you can do two colours, or one colour plus dissolvable PVA supports! 220x270mm heated bed, and metal construction that feels a lot like a slightly larger Wanhao Di3. Good value if you are looking for a fuss-free dual extruder machine without all the calibration headaches. Full Athorbot review here.
Createbot XL – This was on temporary review loan and while I have to write up my long term conclusions, I loved it so much after my initial impressions that I bought it. See my first impressions review of the Createbot XL over at 3D Printing Club.
Honorary Mentions
The following printers might have been featured on the channel or Instagram for a sneak peek 🙂
Creality Ender 2 – A cut down version of the Creality CR-10. Actually, it's half a CR-10 – 150mm x 150mm heated bed, small LCD screen, but prints nicely. Mine has a belt rubbing issue I need to resolve.
Creality CR-10 Mini – A slightly less cut down CR-10. Mine is waiting for a new board as the current board heats up the bed when USB is attached, prints nicely off SD card though.
JG Aurora A5 – Like a Wanhao and a CR-10 had a baby. Nice build area, color TFT touch screen, filament run out sensor, and USB printing. There is community firmware to enable auto level.
Other 3D printers
Ultmaker 3 – I have this baby on loan and I love it. I put an initial Ultimaker 3 review together but will come back with a long-term review after fully putting it to the test. One way or another I need this to move up into the "printers I own" section!
Formlabs Form 2 – The new maker space in town that I just joined has a Formlabs Form 2, and I have to admit it was one of my motivations for being interested in joining! The output from this machine is like nothing you have ever seen on a consumer level printer. Expect lots of projects using this guy.
Ordbot – Protospace was long-term-loaned one of these printers, and while it is showing it's age, it is still a beast just ticking along. Many upgrades, repairs, it is barely recognisable from it's original state, but it has been a great resource for the makerspace. We now have 3 Ordbots, all now using E3D v6 hot ends, and two with E3D Titan extruders. It really is a workhorse.

PrusaMD – The Archeloft space has a few interesting printers but the main one to catch my attention was the locally made Prusa. We now have one at Protospace too, dedicated to ABS printing. They are aiming for a quality angle with a high price. I don't feel like you get great value for money with the machine currently (compare for example with the printers above), and it is a shame it only takes 3mm filament, but it does produce nice results (seen here printing in ABS).



Makerbot Thing-o-Matic – Another long term loan from a Protospace member. Ancient, tiny, wooden, and … Retired. I did start looking to repair this little beasty as kind of a museum piece but my electronics innards I purchased were … mislaid? Maybe I will return to it.

3D Systems InVision SR – This was a donation to Protospace from someone who had no longer the time or resources to spend on it, and it was a hefty one, both in value and weight. It's an industrial strength resin machine that works with a support material to generate highly detailed, if slow, prints. The gunk this stuff takes is both expensive and scary. Don't let any of it get on you. Beautiful and robust output though.
CNC and Lasers
(CNC reviews coming "soon")
T8 CNC
Sienci Mill One v2
Inventibles X-Carve
Sienci Longmill
K40 40w Laser
Elekslaser A5
Glowforge (x2)
Software
How to install and run Octoprint to manage your 3D printer:
Electronics
Speaking of Octoprint, I am a big fan of the Raspberry Pi. I am running Octopi/Octoprint on Raspberry Pi to control and monitor all my 3d printers. As well as the Raspberry Pi, I have a lot (probably too many, it's an addiction) of Arduino-compatible boards, from the cheap $2 eBay versions through to the "Internet of Things" boards like the Particle.
Photography/Camera and Vlogging/Podcasting Gear
Sony Cybershot RX100v
Canon Rebel Sl1
Canon 7D
Zoom H5
Gorillapod and ebay clones
DJI Mavic Pro
Rhode and Shure microphones
Elgato Camlink 4k