Using Meshmixer takes your 3D printing superpowers to the next level. Sometimes you can find an existing STL file to download that is almost what you need, but the simple modification tools of Simplify 3D or other slicers don't cut it. That is where Meshmixer comes in, it can load, modify and even delete parts of existing STL models, quickly and easily, and then export for 3D printing!
Let's look how simple it can be in this quick video and tutorial!
Get Meshmixer
You can get Meshmixer from Autodesk for Windows and Mac (sorry Linux!) here. Once downloaded, install, then open up. It needs surprisingly few resources for simple objects, but obviously the more power your system has the better.
Import Your STL
When you start Meshmixer it will ask if you want to import a file or import pre-made objects, go ahead and import your STL file.
Orient Your Object
I like to make my object stand up in the correct orientation, so I go to the Edit button, and select Transform, then I rotate so it is the correct way up. You can pull on the various axis points, or just type 90 in the Rotate X box in the inspector.
Cutting Up Your STL
We are going to use the Meshmixer Plane Cut make a lateral cut, splitting the top from the bottom. Again, in Edit/Transform, choose Plane Cut, then drag the arrows until only the part you need is visible. Once you are happy you can accept (choose the defaults to begin with then play with the options).
Painting Selections in Meshmixer
If there are elements of the object you wish to remove then you can paint the selection using the Sphere Brush or Lasso. Hit the Select button, set the size of your brush, then paint the area you wish to select. Once selected you can hit your backspace key on your keyboard to delete the part.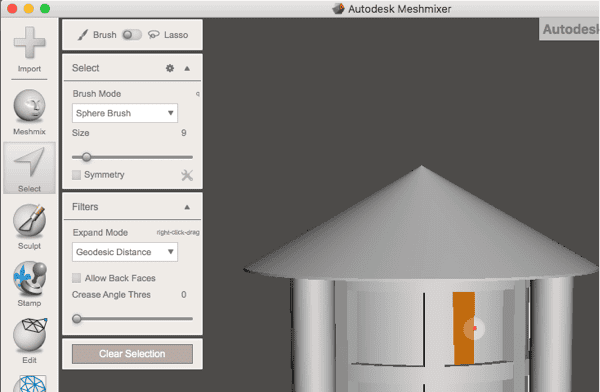 Exporting Your STL
Once you are happy with your newly modified object, go to the File menu and hit Export. Select Binary STL as your output format, and choose where you want to save it. Done! You have taken an existing STL model and modified it to your own needs!