Prusa Mk3s reviews are often by popular YouTubers who get 3D printers for free, sometimes sent by Josef Prusa himself. Not so here, I am not popular, and I bought my Prusa i3 printers (Mk2, Mk3s) AND my Prusa Mini myself!
Obviously, I wouldn't buy a second Prusa if I didn't enjoy the first, but they are far from perfect.
What is it like in long-term practice? Has the Prusa i3 MK3s passed its sell-by date?
Affiliate Disclaimer:
While my reviews are always honest and independent, I know there is a common rumor in the 3d printing community about reviewers having a bias toward Prusa. I can't speak to the validity of that, I can only say I am not biased in any way, despite running one of the more popular Prusa-based Facebook groups and also supplementing my income with affiliate sales (this means my links earn me a small commission but don't change the price you pay). In fact, I often get static for maybe being overly critical about Prusa, as we will discuss in this here review.
Prusa Mk3s Kit or Pre-Made?
The first decision when looking at the Prusa Mk3s is if you want to buy the kit or have them build it for you.
Prusa Mk3s Kit is $749, or you can buy assembled for $999. Assembled has a lead-time of 3 weeks, while the kit is usually in stock.
Remember to add shipping and import duty ($110-$130) to these prices! The final price for the Prusa Mk3s kit to my door was CAD$1,227.94
The kit arrived well-packaged, I would guess the assembled version would too, just in a larger box.
Building the Prusa Mk3S kit is NOT like building an Ender 3, where it is partially assembled.
You have to assemble almost every tiny piece, and it is a chore. Perhaps I was overly vocal about what a pain it was to build, but I would even suggest it is a bit more involved than assembling the Mk2 was, due to the newer extruder assembly.
I have day job and family responsibilities, so It took me weeks (25 weeks to be precise – that is excessive, and you are unlikely to take that long!) due to grabbing 10mins or an hour here and there.
It's fiddly, and with 3D printed parts with rough overhangs, things don't always go together well first time. Expect to have tiny nuts falling and rolling under furniture constantly.
Unlike me, some people report enjoying the process. YMMV.
Notice I say it takes a long time, not that it is difficult!

In discussions in the Prusa Facebook Group, members estimate that you can build the Mk3S in 8-9 hours given a straight run.
Follow the online instructions. There are updates and comments to assist you.
It also helps a great deal to have a dedicated space for the build, so you are not having to get everything out and put everything away each build session if you do have to split up the assembly over days.
Now, obviously, at the end you will understand your 3D printer intimately, which does have value.
Just don't go for the kit purely to save you money if you value your time at all, because it is going to take you a long time, which could cause you to resent the printer like I did – especially if your hobby time is limited.
Prusa Mk3s Specs and Features
Once assembled, what do you get?
250mm x 210mm x 200mm Heated (120ºC), Removable, PEI Coated bed (I went for smooth, I have no idea why someone would want their prints to be textured!)
E3D Extruder (max temperature 300ºC) with Bondtech gears
Filament runout sensor
Power out recovery
Trinamic2130 stepper drivers detect skipped steps
Quiet Noctua fan
Auto bed level compensation
Understandably, given the long and proud history of the Prusa, it has a solid reputation in the community. While the Mk3 had some wobbles on release, with complaints about print quality, beds, filament runout sensor, power supply hum, and so on, the Mk3s seems to have resolved those issues.
By appearances, the Prusa is very much a hobbyist, tinkerer machine. It looks home-made, and of course, it usually is.
It's also quite old-fashioned in some respects, being made of 3D printed parts, no enclosure, an 8-bit main board, and sporting a monochrome LCD.
It's not exactly the fashion challenger for the 2019/2020 season.
Of the machines in my hobby room, it appears the cheapest, while being the second most expensive after my monster-sized Craftbot XL.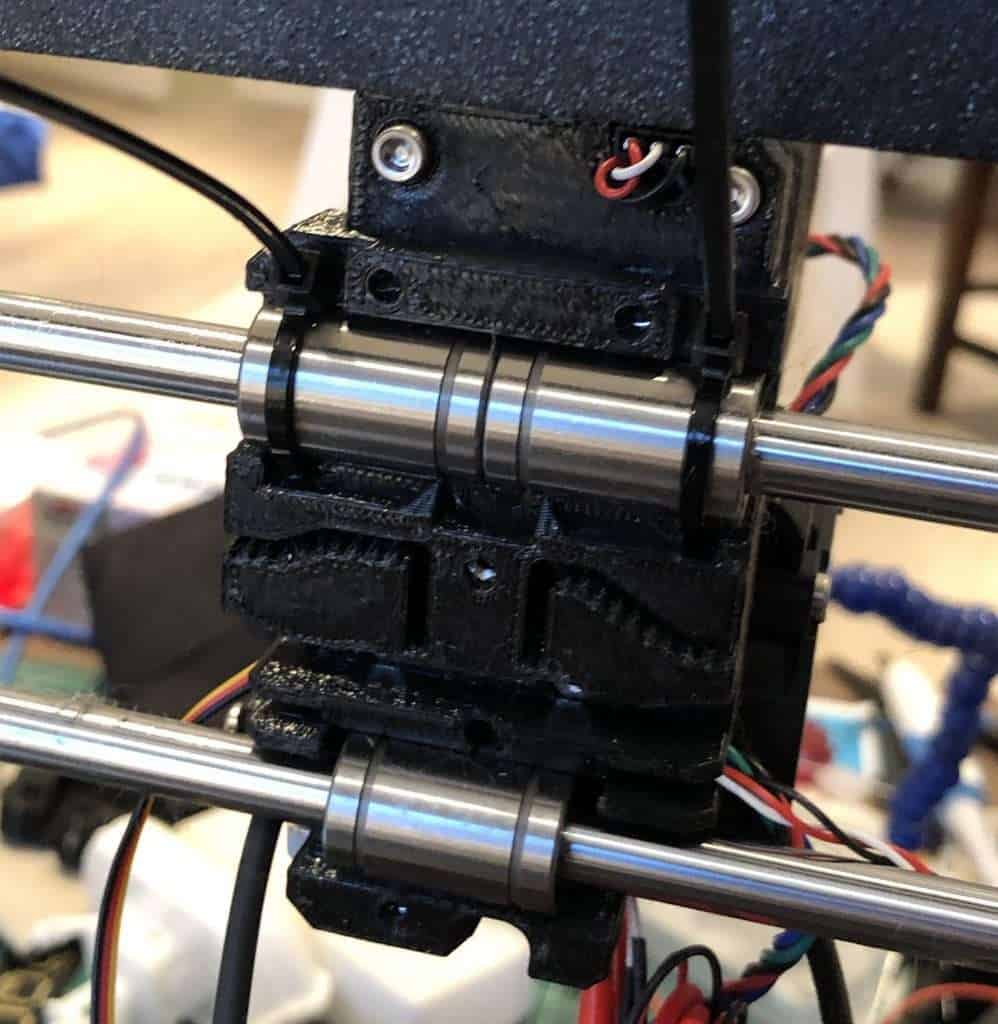 It is, however, built out of top-of-the-line electronic and motion parts.
Sure, there are no linear rails that you might find in similarly priced machines, and there are still zip ties holding some vital parts in. Yes, zip ties. In 2019.
That said, the components, and particularly the machine's firmware, are amongst the best in this sub-$1,000 segment of the market.
In operation, even in 'normal' mode, it is super quiet.
Oddly, while Prusa make a bit marketing buzz around their expensive Prusament 3d printing filament … the filament included with your purchase is some no-brand stuff that many group-members have complained endlessly about.
Prusa Mk3S Software PrusaSlicer
To an extent, Prusa is a lot like Ultimaker, in that they control the hardware and software design, and even the filament if you are willing to pay a premium on your usual cost, so everything is tuned together.
The slicer, based on a fork of Slic3r, is excellent, but oddly, the built-in profiles for the Mk3s caused me some issues, such as stringing and very difficult-to-remove supports that caused bad surface quality.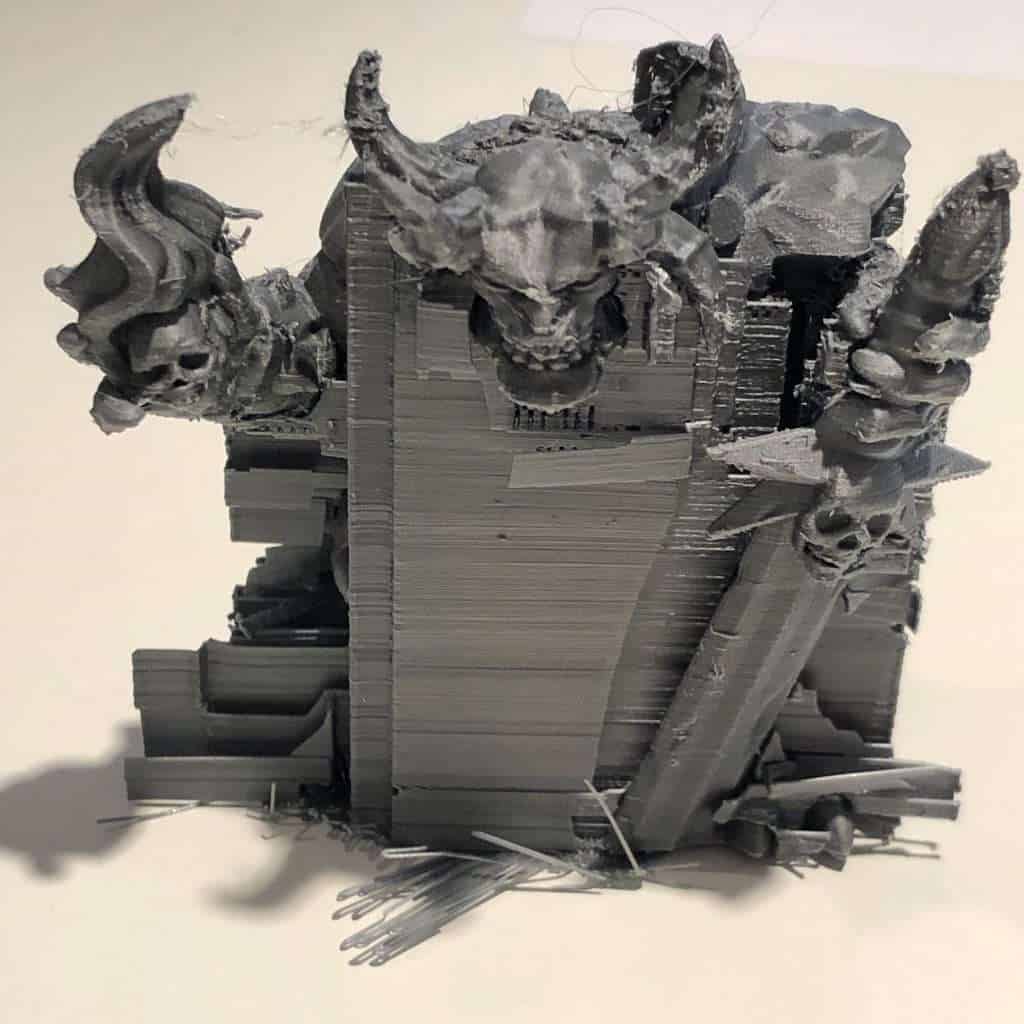 Even the Marvin demo file included on the SD card printed badly, which I put down to the gcode being tuned for Prusa's own filament rather than the PLA they included.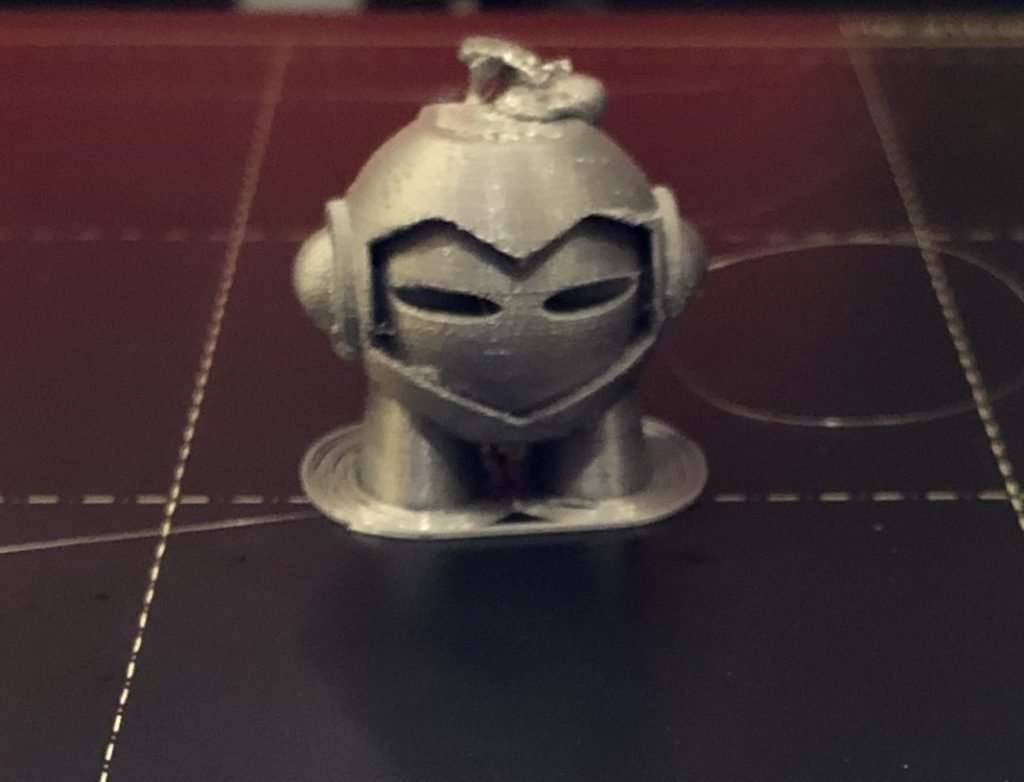 Fortunately, the community provides. I am now using the Pretty PLA profiles by Chris W.
When you slice a model in Prusaslicer it will post a message in the Gcode to remind you to update firmware. This nag could be annoying on a machine where you are lax in updating (eg. my Mk2), but is a boon on the Mk3s where I will get the benefit of incremental improvements.
Prusa Mk3s Print Quality
As would be expected for a ~$1,000 printer, the Prusa Mk3s print quality is great.
The Prusa mk3s is supposedly capable of 200mm/sec. It does seem capable of good speeds, but someone with more science than me would have to confirm the actual capability in practice.
What makes the Prusa i3 an exception in this price range, however, is the fact you can get this level of print quality without making any modifications or tuning.
So, really you are buying ease of use and convenience. While you could get multiple Ender 3 printers for the same price and get close to the same output quality, you are going to have to put more effort and maintenance into the Ender 3.
Don't get me wrong, you are not going to get resin-quality minis right out of the box, though I did try!
Who is the Prusa Mk3s good for?
The Prusa Mk3s is in an oddly unique spot in the market. It's not a budget printer, for that I would recommend the Ender 3.
You could have multiple printers, a makerspace or print-farm starter set for the price of one Prusa, and you would get them faster because you can probably get the Ender 3 either locally or from Amazon.
If you are into 3D printing or electronics as a hobby, and you want to learn and tinker, then again I would go with the Ender 3. Especially if you are in the 3D printed tabletop community and want FDM for terrain etc.
But it is also not a prosumer printer, or a printer ideal for education, either. For those functions you ideally need an enclosure. In those markets I might look at Craftbot and Ultimaker over the Prusa Mk3s.
Which brings us to another point for makerspaces or other environments where printers get worn-out and abused. Keep in mind, you can only get official Prusa parts from Prusa. Harry Brookes in the Facebook Group recommends a store on Aliexpress called Triangle Lab for 3rd party parts. I have not tried them myself. Joseph Tam has a Tindie store where he has compatible bed leveling probes and heated beds.
For pure print quality, for example small, detailed items like tabletop minis, I wouldn't even suggest FDM, I would go for the Elegoo Mars, 100%. Note, Prusa does sell the Prusa SL1 resin printer, but it is expensive for people just getting into 3d printing.
The Prusa Mk3S is perfectly capable of printing good-looking props and cosplay items, especially if you use something like Meshmixer to split into pieces. For larger cosplay items that you want to print in one go with no glue or seams, such as helmets and full armor pieces, due to the price and the print bed being not quite big enough, I would look to the Creality CR-10 range.
TL;DR The Prusa Mk3S is perfect for people who want to just hit print and are not looking to tinker, maintain, modify or otherwise work ON the printer, but don't want to spend crazy prices. For those people, the Prusa i3 still excels.
Original Prusa i3 Mk3S
Check out the Prusa Mk3S at Prusa Research