"Review the Anet A8 3D printer kit, 220mm x 220mm for $200 (or less)", they asked. So I take a look. Prusa-style printer. Lots of social media mentions. Some nice community prints. Meets that magic "3d printer for under $300" checkbox.
Heck yeah, I will review one of those 3d printer kits Mr Gearbest – free 3d printer, even if just for parts? Sign me right up!
Of course, part of me is skeptical. Yeah, lots of people like this guy, but how good could a sub-$200 prusa i3 clone 3d printer kit actually be? Would all the parts be in the package? Would it arrive in good condition? (The 3d printer is after all mostly acrylic …). How well would it actually 3d print?
Only one way to find out! I gladly accepted the challenge and awaited my A8 kit in the mail … Read on to find out what it is like in reality ….
Breaking! Get the A8 for the discount price of $155.99 at Gearbest for a limited time!
Anet A8 3d printing community support
Before I even received this review printer, I did my research, and of course that means I checked out the Anet 3d printing community online.
I was already familiar with some, and on the strength of that I have cautiously recommended the printer, previously. But there is a huge difference between being aware of a community and a 3d printer and experiencing it for yourself, so I dove in deeper and was extremely pleased with what I found.
The printer has excellent community support, in the form of questions answered, mods provided, and trolls kicked out!
Definitely check out the Facebook group and look around.
Another example of the strength of the community is this printer set up right away in Simplify 3D. Shows how popular it is.
A8 3d printer kit pricing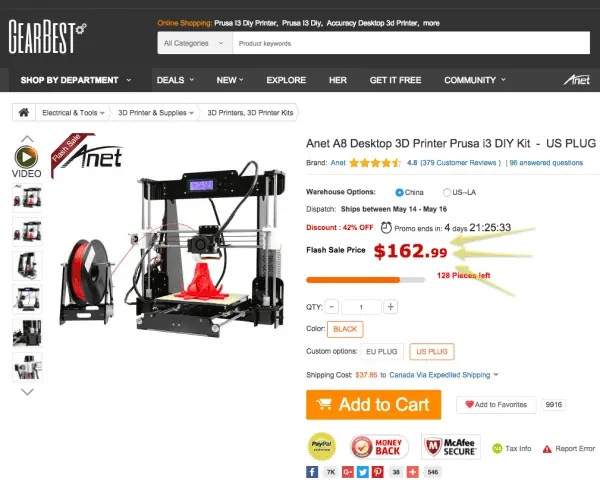 3D printer kits come in all shapes, sizes, and prices. The latter being super important.
The main appeal of this 3d printer kit, and one of the reasons for its popularity of course, is that it is so affordable. For people dipping their toe into 3d printing, or purchasing for a kid, maker space, etc, budget is a priority. The dollar figure is going to weigh heavily, but you also don't want to buy a bad cheap 3d printer.
Anet's recommended retail price for the Anet A8 is around the $200 mark – impressive in itself – but, with regular discounts that appear, you can shave off more dollars bringing it lower. At the time of writing you can buy the Anet A8 at Gearbest for around $155.99! That means even in Canada you can get it for around $200 CAD shipped – that just blows me away.
Yes, you could buy two of these 3d printers for the price of some of its closest "budget" competitors. That's amazing value, even if you are just looking at the price of parts.
Building the Anet A8 kit
You can read about my unboxing over at 3dpc.tech – a lot of the time between unboxing and printing was stripping the 3d printer frame parts of protective covering.
Grab a beverage and a favourite movie, you are going to be at it for a while.
So. Much. Peeling.
Some pieces had holes that hadn't been fully cut, but you can resolve that easily if you are careful. That, and the fiddly T-joints were the worst part of the build itself. You need small hands or a lot of dexterity, otherwise it just takes a little while longer, as it did for me 🙂
Tedious, sure, but necessary to bring the pricing down, so can be forgiven. You know what you are getting with a 3d printer kit, it's never going to be almost plug and play like the Creality CR-10.
The printer comes with tape right on the metal bed, and a sample of PLA, so I did a quick print off the included SD card just to check first layer.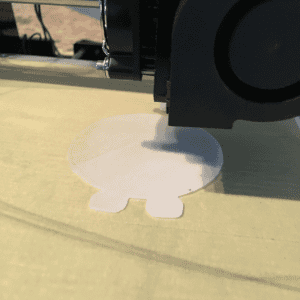 Despite my reservations, and those couple caveats, the build went surprisingly smoothly, and after build it printed several decent prints.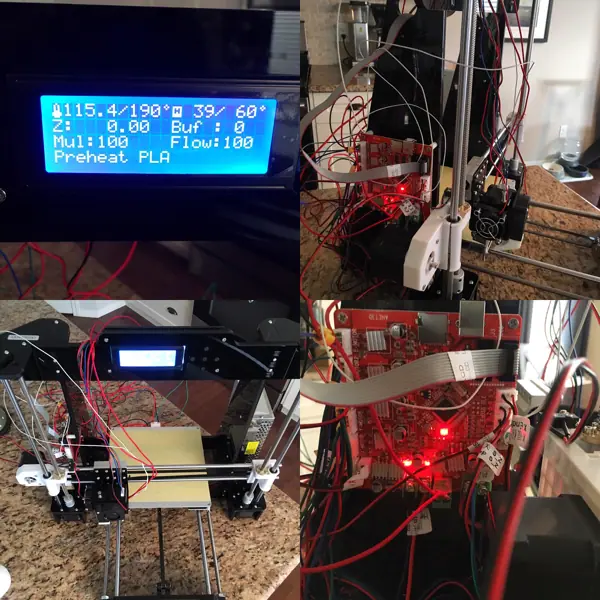 Of course, this is not my first 3d printer kit by any means, but I only followed the YouTube instructions, I was under-caffeinated, and as you can see from the pictures I am not the tidiest printer builder in the world, and I managed to build with only a couple of minor issues over a weekend on and off. In my defence, I didn't do the cable management in case I had wired something up wrong, I am not leaving it like that 😉
Example Anet A8 3d prints
How well does it print?
Considering I did zero tuning, it prints very well for a sub $200 printer. For these 3d prints I just printed off the example Baymax gcode from the provided SD card files, then continued with the default Simplify 3D profile.
For the latest prints I increased extrusion slightly, and I need to tighten my belts. That's it.
I am not entirely happy with essentially bare wiring connections, especially coming from the power supply. The main board is exposed. All of this rules it out from classroom use unless you can build safety casing for the board and PSU.
Now this is "out of the box", as it were. The community has a lot of crowd-sourced options for improvements, mods, upgrades, tweaks, and maintenance tips, just like all the upgrades I ran through with the Wanhao Di3 that made that printer superb. If I get time I will try some, priorities being nylock nuts on the bed, better belt tensioning, and maybe some bracing.
Right now the only upgrade I did was added a 3Dpc.tech branded Fleks3d plate (the bed size is actually a bit larger than my Fleks3d, but I have other printers so I am not worried about losing some mm, YMMV). I am seriously considering the Mk8 Micro Swiss upgrade for ability to print, well, anything pretty much.
After loading the example filament then loading up some purchased filament I slowly got used to using buttons and hitting right instead of the middle button rather than the familiar dial I am used to. If you don't already have that motor memory then it will be no big deal 🙂
Anet A8 Review Summary
So all of this in mind, what is the outcome? First, let's summarize …
Low points:
Removing all the protective adhesive paper is a pain.
Fiddly T-joints.
Bare PSU wiring, mainboard, and general cable management.
Own-brand mainboard and closed-source firmware.
Menu system takes some getting used to.
High points:
AMAZING value.
Prints great, as well out of the box as any Prusa clone I have seen, and better than some well-respected options.
220 x 200mm heated bed is a great size for beginners and most general-purpose 3d printing.
Mk8 extruder and hot end means you have easy maintenance and nozzle supply.
Design means it's easy to fix, replace, upgrade.
LCD screen and menu control – I have used printers 3x the price that don't have screens or SD printing ability!
Conclusion?
Absolutely recommended! Be careful assembling, especially around the acrylic and the wiring, and you will have an excellent budget printer!
PS!
Breaking! Get the A8 for the discount price of $155.99 at Gearbest for a limited time!