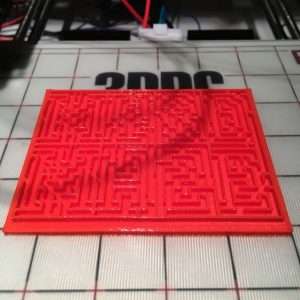 Want to 3D print a gift for family and friends that they would actually like to receive? In this beginner-friendly 3d cad tutorial, we are going to create a maze puzzle, personalized with a name, word, etc, in Tinkercad, ready for 3d printing!
Watch the video here, and get details and links below the video …
Creating Your Personalized Maze
The "trick" to this custom 3d printed maze, and what makes it so easy, is there is a font that converts your words (if you use all capitals) into mazes!
And it's free!
Download the Mazey Font
You will need to register at Fontstruct, then navigate to the Mazey font download page where you can download a zip file containing the Truetype font.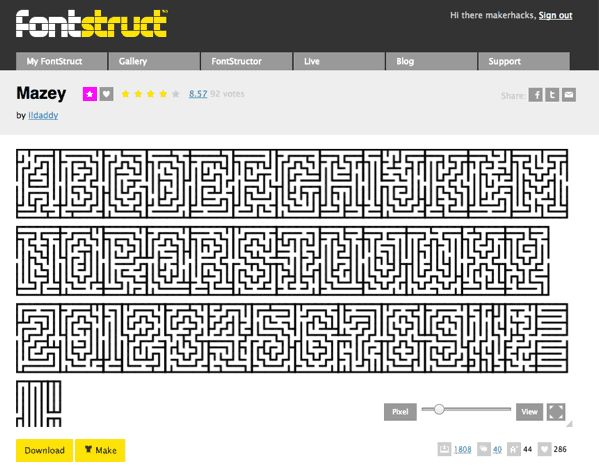 Once you have the font on your machine, you can install it to your operating system. There is a guide for the main operating systems here if you don't know how. Being a Mac user mainly, in the video I show the process for Macosx, but it's easy on Windows too.
Now you have the font installed, next you need to create an SVG file.
Create Your Maze as SVG Drawing
SVG are line-art designs, also called "vector" documents. Unlike JPG/GIF bitmaps that use pixels, the drawing is made of geometry that can be resized without losing definition. Perfect for adding the 3rd dimension of depth and then using for 3d printing.
In the video I use Adobe Illustrator, but any vector drawing application that can output SVG files is fine.
A decent, free, open source vector illustration app is Inkscape, and it is available for the main desktop operating systems. Unfortunately Tinkerdcad, being a "cloud based" too, has a limited set of fonts that they allow you to use, it doesn't really matter what you have on your machine, otherwise we could skip this step.
Enter your text (all caps), then change the font to use Mazey. You will see your letters turned into a maze before your eyes!
Remember to convert your text to outlines because remember Tinkercad can't load the font.
Make any modifications that you need to for your puzzle to be sufficiently puzzling, then save out as an SVG.
Making the Maze 3D with Tinkercad
Tinkercad has a handy import feature. Just choose your SVG document and it will load it in and add depth, automagically.
For my puzzle I wanted the maze to sit atop a base, so I added an appropriately sized box too.
Right next to the import option, as you would expect, is an export option. That is how you export your model as an STL file, ready for 3d printing!