One of the reasons Prusa Mk2 and Lulzbot printers are so reliable is they have a special PEI surface to print on. In my experience it is one of the best print surfaces, needing no glue for PLA or ABS. So why should other printers miss out? Well, if your bed is smaller than 254 x 224 mm you are in luck!
I've gotten pretty tired of glue stick and ABS juice. It's just a mess, and especially with the glue stick, I never seem to use just the right amount.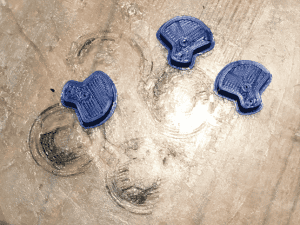 Turns out Prusa sell PEI adhesive sheets. The idea is they are replacement sheets for the Prusa should you damage your original. For some lucky people it appears they even added a spare sheet in the Prusa delivery (so I am told, I was not one of the lucky ones). As soon as my Prusa arrived I ordered two replacement sheets. Ever since I have been wondering how well it would help my Wanhao Di3, seeing as that bed is only 200x200mm. Well, today I tried it out.
Your DIY PEI 3d printer bed
You will need:
A craft knife or razor blade
Isopropyl alcohol
A credit card or other convenient scraper
Cutting board
Thoroughly clean your print surface that the PEI is going to adhere to. I stuck mine to my glass plate but on the Prusa it is directly on the heated bed circuit board so you could try that.
Next peel back the edge of the PEI. Not too much! It's very important you scrape any bubbles out as you stick the sheet to your bed so take it steady and do small amounts at a time.
Once the entire sheet is added, ensure no bubbles are showing. Squeeze with your scraper until you are satisfied it is completely flat.
Now you will need to cut any excess with your knife, before cleaning thoroughly with your alcohol to remove any of your finger grease.
There you have it, a PEI bed ready to attach back on your printer!
Ensure you carefully reset the z gap before printing because remember you just changed it with your 0.175mm sheet. You don't want the z gap too close and damage your sheet right away. Before each print ensure it is clean with a wipe of isopropyl and it should be good to go, no glue necessary.
Let me know how it works for you 🙂