Nylon 3d printing filament is not at all popular with regular 3d printers, and for good reason, but after giving it some serious use recently I wanted to implore you to at least try it.
Why? Let's take a look …
Nylon filament is STRONG
For a long time I have been looking to move my filament spools to be mounted on the wall. Couple of reasons, but mainly the convenience of being able to switch filaments easier, keep the weight off the printers, and to free up space.
Obviously, when you are talking abut full 1kg or 2kg spools, that is going to be a lot of weight.
I did purchase 2kg of PETG, which is a tough filament, in the meantime I was sent a spool of black Inksmith Nylon, so I thought that might work better.
First I did a test print that you can see in the animated gif. I was amazed, considering this was just a few layers, with pretty guestimated settings on my Wanhao Di3.
Next, I went to Tinkercad and threw together a bracket design:
I didn't do any measurements at this stage, I just threw together something that looked about what I wanted to print.
On the bed I have PEI, but I added some glue stick to give it extra purchase. Temperatures need to be high for Nylon, thankfully my Di3 is upgraded with Microswiss all metal throat and nozzle. While they recommend up to 275c, I found on my printer it printed at 245c. Bed I had at 80c because my test print on PEI and glue was fine, and in fact was difficult to remove after printing!
Here is how it came out: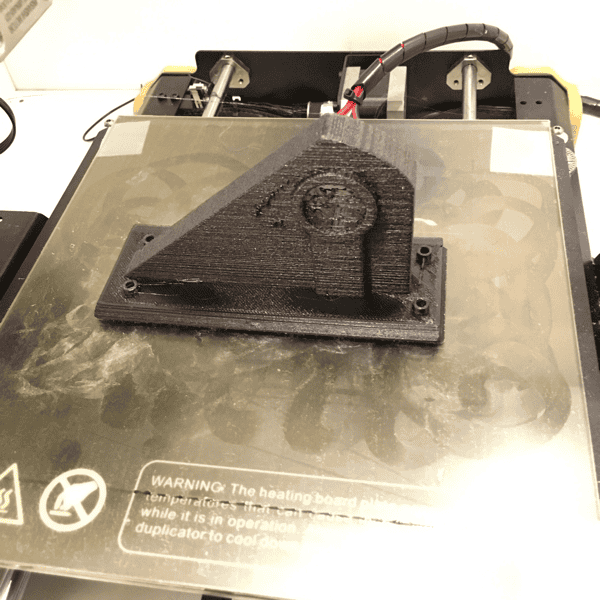 Clearly I could have better wall finish, and there is some stringing, but it came out great, with a perfectly flat base. Of course, as expected, it was super strong.
Nylon Challenges
So why do more people not 3d print nylon?
A few challenges:
Stinky – Like ABS, it's not something you want to be inhaling on the regular.
Moisture – I am fortunate I live in a low humidity environment, and even so it just drinks moisture from the air. This particular PA12 formulation is more moisture resistant.
Stringy – Dialling in retractions is important.
Heat – Needs higher heat than PTFE lined hot ends can withstand – PTFE degrades from around 245c, and breaks down entirely at nylon temperatures. That stuff is bad to breathe in and obviously messes up your ability to print, so only use on a hot end that can withstand the heat.
When to use Nylon
When might you use nylon in that case?
Strength and impact resistance – No other filament performs like this.
Heat resistance – Beating PETG and ABS.
Wear and fatigue resistance – People use nylon printed gears and pulleys in industrial settings.
Excellent lamination – When you have your settings dialled in, nylon has the best layer lamination and bonding of any FDM material.
Over to you!