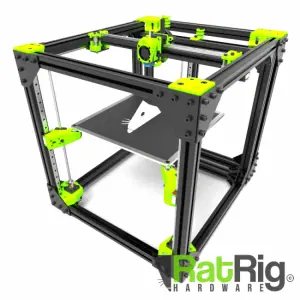 A new coreXY contender in the 3D printing world is garnering some attention and gaining popularity as of late, the Rat Rig V-Core 3 corexy 3D Printer. In the coming weeks we will be doing a 3 part series on the printer, comprising of the mechanical build, wiring/first prints, and finally the final verdict on the printer.
This article is part 1 of the Rat Rig V-Core 3 3D printer review series, consisting of the part sourcing process and the mechanical build of the printer.
Disclaimer: Rat Rig provided the mechanical kit, free of charge, for the purposes of review. However, Rat Rig has not influenced the review process in any way and these thoughts and opinions are my own.
Introduction
Rat Rig appears to have started as a company making camera sliders as far back as 2014 from the About Us section of their website. Rat Rig is based out of Europe. Their values as a company are centered around providing modular components, that are simplified and not overly complex, and high quality. In addition to camera sliders they began to make 3D printer kits, the one we'll be talking bout today is the V-Core 3, which has been developed based on years of experience from it's predecessors launched back in 2017.
When this process began in mid May of this year, 2021, I ordered the V-Core 3 300mm version as a mechanical kit. At the time they did not provide 120v heatbeds and I wanted to also shop local where possible. I ordered the base Mechanical kit which consisted of the frame, hardware, linear rails, lead screws, bed plate, magnet and flexible build sheets. I purchased most the remaining parts and PETG filament from Sparta3D based out of Ontario, Canada.
The kit arrived in 3 separate packages, delivered by DHL, approximately 8 weeks later. The parts were fairly well packed and nothing was damaged in transit which I was happy to see. The lead time posted on the Rat Rig website is currently 6 weeks. Some users are reporting that its been taking longer, but hopefully the lead time slowly reduces as time goes on.
I printed all the components, which was easy to do. The source files, CAD, and printing guidelines are here. You will need to refer to the orientation section of the above links as when you download the parts they are not in the correct orientation. I hope that in the future Rat Rig will both save the STLs in the correct orientation and adopt a better naming convention which shows quantity of parts and even if the colour is intended to be a main colour or accent colour. One feature I quite enjoyed about printing the Rat Rig parts is that they implement sacrificial layers to "trick" the printer into printing bridges instead of requiring support structures. These sacrificial layers are to be removed during part prep prior to the build:
I choose to print Sparta3D's PETG with the light blue main colour, and black accent colour. The filament printed really nicely on my Prusa Bear sliced in Prusaslicer and the blue looks fantastic, in my opinion, with the black frame. I also chose to print the front fan shroud in transparent blue resin.
The Build
Now that I had the kit, the parts, and the printed parts complete it was time to build and begin this Rat Rig 3D printer review. I went to the Rat Rig V-Core 3 Build Guide to start the build process. The guide is pretty clear and I think I only stumbled in one or two spots where comments in the build guide helped me out. I also opened their CAD file for reference in Onshape as well.
I started in the preparations section where it references the belt prep, printed part prep, and the assembly nuts insertion process. After that I went through each section, meticulously to get the build up and running.

Here's how long it took me to complete each mechanical section, up to the wiring stage:
01. Frame assembly: 3.25 Hours
02. XY Drive Assembly: 2 Hours
03. XY Idler Assembly: 0.5 Hours
04. Z motor mounts: 0.5 Hours
05. Linear rails: 1 Hour
06. X gantry: 2.25 Hours
07. Bed Assembly: 2 Hours
08. EVA: 1 Hour
Check out the progress of my build in this gallery:
Throughout the build I only encountered 2 quality control issues from the components that I received from Rat Rig. The first was that one linear rail had one 3mm holes that was not drilled through from the factory. This in my opinion was really a non-issue as all the other holes for that rail are filled with m3's and t-nuts keeping the rail in place unlike other builds where you only fill every other hole. One missing hole is not going to make a difference.

The other issue I encountered was a bad 9mm idler. It had a faulty bearing and was not rolling smooth. I e-mailed Rat Rig to which they claimed they had received a bad batch of idlers from their supplier and some made their way into kits. The also mentioned they've been sending out replacements to hose who received them and within a week I had a set of new idlers in my mail box. I want to also mention the idlers use MR104ZZ bearings which were relatively easy to find locally and swap out for future issues.
The build itself was pretty straight forward honestly. Getting the frame to be square and straight was not difficult and assembling 3030 extrusion components were a treat. There were only 3 areas I had to focus on, running the belts for XY, aligning the X Gantry for smooth motion, and trying to line of the Z leadscrews to be straight and parallel to the linear rail. Taking your time and really getting those steps right are going to make a significant difference in final print quality when I get to that stage.
Up to this stage things have gone well. The next article will focus on the wiring and first impressions of the printer once it's commissioned, up and running. Part 3 will be the final review article after a few hundred hours of use. Stay tuned for Part 2 and I hope you follow along as I go during this Rat Rig 3D printer review.