The xTool P2 desktop CO2 laser cutter has blown me away. In fact, that is a huge understatement.
Saying "Glowforge Killer" has become a bit of a cliche in the laser cutter space but after just a couple of hours setting up and initially testing the P2, perhaps we finally have a real candidate for that crown …
As mentioned, I have had the laser less than one day so this is not a full review, more a first impression, but I plan to drill down into all the details in future articles so let me know what you would like me to test or information for me to find out for you!
Introducing the xTool P2
The xTool P2 is a desktop-sized, 55 watt, CO2 laser. You can see the official page for the P2 here.
This means, unlike the excellent xTool D1 Pro diode laser I reviewed before, it is fully enclosed, it comes with built-in fume extraction and air assist, and the laser power is substantially increased, meaning it can cut thicker materials or engrave many times faster.
xTool P2 Price
Due to this machine being fresh on the market, there are various promotions likely to vary the actual price you pay, discounted/free shipping, and so on, so it is worth checking out the offers, but I believe the price will eventually be around the $5,000/£4000 mark.
xTool P2 Specifications
Parameter
Value
Laser Power
55 Watt CO₂ Glass Laser Tube
Packaging Size
44.4″×28.6″×13.6″ (1122×727×346mm)
Machine Size
39.4″×25.1″×10.6″ (1000×639×268mm)
Product Weight
45KG
Maximum Engraving Speed
600mm/s
Laser Precision
0.01mm
Z-axis Height / Movement
3″ (75mm)
Lifespan
6000~8000h
Safety
Class IV (FDA Certified)
Laser Spot Size
0.15×0.2mm
Laser Bed Size
26.7"×14.1" (680*360mm)
Useable Laser Bed Area
23.6"×12.1" (600*308mm)
Maximum Material Height
With tray 2.5″ (64mm)
Without a tray 2.7″ (71mm)
With a riser base 8.5″ (215mm)

Water-cooling System Capacity
1.4L(0.37gal)
Air Assist Power
15-150Kpa (adjustable)
Fume Exhaust Fan Power
145CFM
Software Compatibility
Windows / macOS / iPadOS
xTool Creative Space / LightBurn
Connectivity
Wi-Fi, USB-C, Ethernet
xTool P2 Table of Specs
You can see more specifications and some videos of the various features at the xTool page. Check it out at xtool.com.
Unique Features of the xTool P2
Looking at a specifications table does not tell the full story, it turns out the xTool P2 has some entirely unique features!
First of all, the P2 party trick … Curved Engraving!
Curved Surface Engraving
What it does is maps the vertical height of your material and then when it does the engrave the z-height is automatically adjusted to maintain focus. This is a game changer, say goodbye to failed engraves due to warped materials, plus think of all the things we can now engrave that we could not before – without necessarily needing a rotary accessory!
Conveyor Feeder (Automatic Pass-Through)
xTool sells an optional accessory that is a riser combined with a motorized pass-through feature for engraving and cutting extra-large materials.
Unlike traditional passthrough where you either push the material manually or do the engraving in stages, this feature pulls the material through in software for extra precision and hands-free convenience.
Automated "AI" Batch Engraving
Want to engrave lots of parts but don't have a jig to line everything up neatly? This can map patterns to multiple workpieces automatically!
The laser cutter can intelligently recognize shapes through the camera, fit the design to multiple objects then engrave on them in one batch.
xTool P2 Unboxing and Packaging
CO2 lasers are big and bulky, even desktop-style machines, and this guy is no exception. They need to be packaged well to protect them, more than some items due to the fragile laser tube, precision motion parts, and the glass in the lid.
The new xTool S1 is smaller and lighter due to using a diode laser system rather than the CO2 tube, so if space and weight are a concern, check that out!
Packaging
When I got the call that my P2 was on the way I was worried about the logistics, seeing as we currently live in a second-floor apartment temporarily but our workshop is on a farm 30 minutes away! To my pleasant surprise, unlike the Gweike it did not arrive on a pallet. Thanks to it being packaged in a large cardboard box instead (like the Glowforge), we had a friend with a van help us move the laser to its new home. Thankfully the box has handles on each end to help with moving it too.
The xTool P2 is packaged well with robust cardboard and straps, and internally packed with foam to prevent any damage during shipping. Minor dents and dings in the cardboard didn't transfer any damage at all.
What's in the Box?
Included with the machine are all the essentials to get you up and running, such as the exhaust hose, USB-C cable, instruction booklets, screwdriver and Allen key, hold-down clips, funnel, and a selection of materials for testing.
Unfortunately, before you can use the laser you must add distilled water plus the included antifreeze. Out in the middle of nowhere, I could not just pop out and get some distilled water. Out of desperation, I managed to get some pre-mixed car antifreeze that I hope is a good enough substitute.
Check out the additional/optional accessories on the website.
Design and Build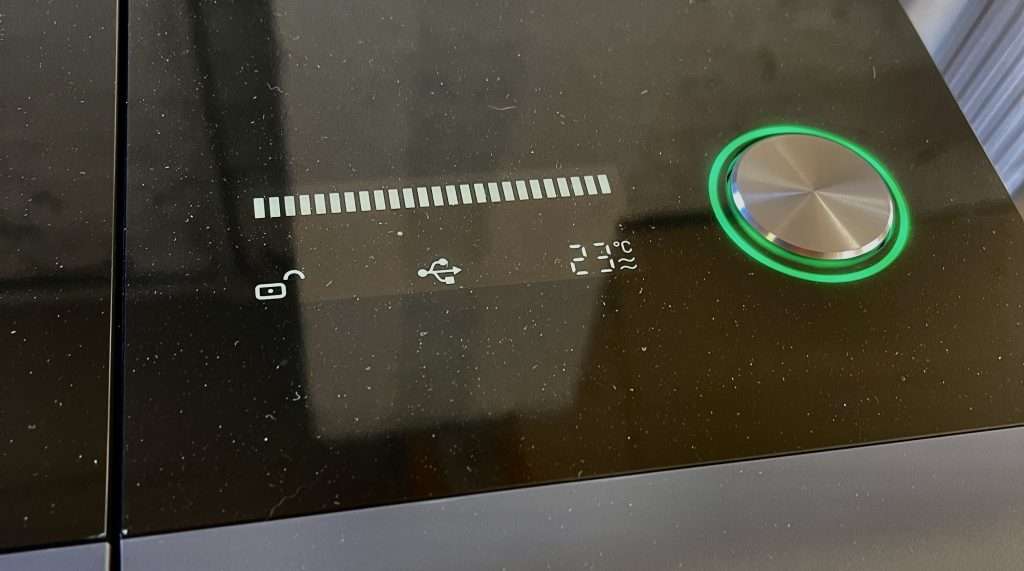 While many people will not care about what is essentially an industrial machine's appearance and overall look, being a desktop laser that can be a big factor for others.
Unlike some lasers, the P2 is mostly made of plastic but with lots of metal on the inside. Don't let that mislead you, it looks great and feels very robust and high quality. Compared to, say, the Glowforge you would not be able to say one is more premium than the other, and compared to more utilitarian designs like the Gweike or Thunder it is much more at home in a design studio.
Rather than use a honeycomb crumb tray, the P2 has a blade-style bed. I quite like this, prevents some flashback under cuts, but I know there are people who prefer the other style for when doing lots of detailed, tiny pieces.
To show the slightly larger bed size of the P2 versus the Glowforge etc, here is some Glowforge proofgrade material on the bed of the xTool. Not a huge step up in size but very welcome!
You can also see the pneumatic lid supports, another welcome addition because lots of competitors do not support the lid at all which is a pain when working inside the machines. Speaking of the lid, it actually locks when the laser is running – safety first!
The laser power supply and e-stop switch are on the right-hand side of the machine. Ports and connections are on the left-hand side.
Around the back is the extraction vent for your hose. Surprisingly they opted for a 3″ tube, and the tube is quite short. I will be switching mine out and using the 3″ to 4″ adapter 3D printer STL that Matthew shared in the Facebook group.
Laser Head and Gantry
Take off the magnetic covers on the laser head and you can see what is a really nicely designed, light, and compact unit containing the mirror and lens setup, as you would expect, but you can also see the Z-focus stepper motor, the camera driver board for the 16mp close-up camera, and the air assist tube.
Unlike the Glowforge and those that followed their design, in this machine, the tube stays put and only the gantry moves in the Y direction. The trade-offs here are speed and agility versus setting mirror alignment, but the mirror in the P2 is fully adjustable compared to the Gweike where I had to open up the side of the machine and shim.
xTool P2 Review Conclusion and Future Plans
Makeblock has a winner with their xTool P2 laser cutter. It has unique features not found elsewhere, a powerful laser, autofocus, Lightburn compatibility, and a great working area.
The last year or so has seen a resurgence in the CO2 laser market, and rather than being a laser power arms race the focus has been on functionality, build quality, and integrated features. What we have to keep in mind, however, is there is more to a laser experience than specifications. The software needs to be there to take advantage of the hardware capabilities, plus the support and documentation from the company can be as important or even more so if the customers are going to benefit from the hardware and software.
This machine is brand new so it is hard to see right now exactly where it will end up in the market, but this minute I can say the build quality is excellent, and the specifications are top-notch even ignoring the unique features, but we are currently waiting for the software to catch up and get close to the full potential that we know this machine has.
Price-wise it is toward the upper end of the niche, with Gweike being the lower priced machine but the xTool P2 being the highest specced and therefore higher priced offering. This puts Glowforge in a difficult spot because their hardware has not changed in years, their best software is subscription cloud-based, and their support has shown growing pains.
In future articles, I plan to conduct more testing with the free software and also my licensed copy of Lightburn, I will test out lots of different materials, and I will do some real-world projects, and then I will do a proper comparison of the popular lasers on the market today.
Let me know if there is anything I can cover that will help you in your laser cutter product selection!
Want more information about this laser cutter? Get the full details and check the current price over at the official page.