In this final part of the series, we now need to answer the question many people ask when choosing a 3D printer; which 3D printer is best? I will share the best 3d printers for buying on a budget, the best 3d printer for beginners/class room use, and the best large format/prosumer 3d printers, to help you decide which 3d printer to buy for your particular situation.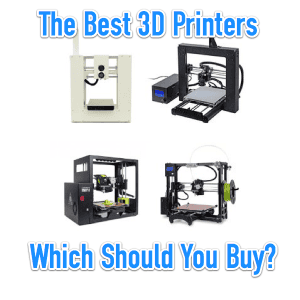 "Which 3D printer is best" all depends on your situation.
To recap, in part 1 we discussed the major considerations that go into selecting the right 3D printer for you:
What is your budget?
What size prints do you need to make?
How experienced are you?
What materials do you need to print?
Do you have a specific filament size you need to work with? (eg. already have 3mm filament printers)
What is the intended purpose of these prints?
How hands-on do you wish to be in building, configuring, upgrading and maintaining the printer?
How important is real time customer service via telephone/chat/on-site, etc?
Do you require extended warranty?
Do you have specific software/compatibility/accessibility requirements?
What country are you in?
Who will use this printer
In Part 2 we looked at the 3 most important questions to answer before buying your 3D printer:
Your budget (couple hundred dollars to thousands?)
Capabilities/Capacity requirements (is there a specific size print bed you need?)
Pre-made, DIY/kit (are you going to build it or buy pre-made?)
So I can't say "buy this" regardless of your answers to the above, but people still ask. So with that in mind, for this final entry in the series I am going to list some ideas for 3D printers that match different uses.
We will look at …
Budget printer
Beginner or Classroom
Prosumer/Large format
… and you won't need to just take my word for it, I called on a few 3D printing experts for their advice too 🙂
I have linked using my Amazon affiliate link so you can get full details of each printer, which also means I might get a small commission. Regardless my/our advice would be the same if we were there in person and links were not a thing 🙂
Let's go take a look!
First, let's look at entry-level printers on a budget.
The Best 3D Printers on a Budget
I'd say the most common question about which 3D printer to buy is which is the best cheap 3D printer. Knowing you might be compromising something, but still wanting to get the most bang for your 3D printing buck, it complicates things quite a lot, while also adding some fear of scams and, well, buying a lemon.
December 2016 Addition – Due to popular demand, I created a whole new post for people looking for the ultra-budget $300 price point!
Not to fear, there are a couple of suggestions that will work well, without breaking the bank!
Wanhao Duplicator i3

At $500 or under, the Wanhao Di3 is not just a good option as a budget 3D printer, it's actually a great choice period. 200mm x 200mm heated bed. Metal frame. LCD screen. Amazing online community. Plenty of upgrades. Yes, there is a learning curve, but that learning curve is not just peculiar to this machine. It can be purchased from Amazon under the Wanhao brand (which is the model I have), or you can save a bit more and get the slightly older model branded as the Monoprice Maker Select. To get my complete thoughts on this printer, read my full review here. Both Anthony and Joel agreed with my choice here.
Printrbot Play

I own the slightly larger Printrbot. I'm a big fan of the company (so much so I agreed to be an admin of the Printrbot Facebook group). Since becoming a fan of the company they released a new model that has excellent reviews. You do lose some printing capability, due to the small bed size, but it is only $400 , fully assembled. Rather than a heated bed (which you can add as an upgrade), it comes with auto bed levelling, which makes it easier to get up and running with quality prints.
Best 3D Printer for Beginners or Classrooms
Beginners to 3D printing need to have an easier learning curve, more predictable results, good documentation and support, and as few doubts, uncertainties and frustrations as possible. Move to the classroom, that is even more important as there is only so much hands-on and supervision one person can do. Safety comes into play also.
Which 3D printers meet those criteria?
Best Larger Format or Prosumer 3D Printers
Once you leave the beginner or budget limitations, the sky is the limit for prices, and capabilities. In our suggestions here, we stick to what we know personally. Anthony, Joel and I all own Wombots, but Anthony now has the large format version. Joel loves his gMax gCreate printers. As mentioned above, James is sponsored by Lulzbot and uses his Lulzbot printers extensively.
Conclusion
As you can tell, there is no one size fits all answer. We have done our best to suggest some ideas that will work for different uses, but only you can decide for yourself. I recommend copying the key 3D printer decision questions above and answering them, maybe send your answers to one of the Facebook groups or forums.
Thank you to Anthony, James and Joel, for your suggestions and your videos.
And, dear reader, I hope this was helpful enough for you to share, like, and discuss 🙂
(If you click any of my Amazon links above and buy something, Amazon will give me a small commission but rest assured your prices and my suggestions would be the same either way.)