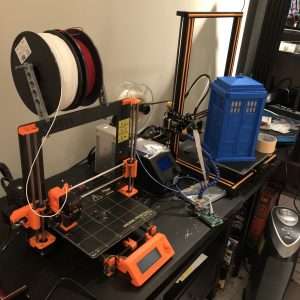 Prusa i3 Mk3s and Creality CR-10 are the hot printers right now, especially for the people in the market for an under $1,000 3d printer, and I love both printers (as most readers will know already), but which should YOU choose?
These printers are both pretty evenly matched. Both have great online communities behind them.
Let's break down the differences …
For the full details, check out the Prusa Mk3s review and Creality CR-10 review
Let's start with price.
As you can see, the Prusa ranges from $600 for the MK2S kit, up to the built Mk3 at $999, just sneaking under the $1,000 mark.
The Creality CR-10 ranges in price depending on where you get it from, but it can be had for under $500 generally, and right now at Gearbest you can get one for $399 USD.
Capacity
Naturally, the CR-10 wins here because the build area starts at 300mm x 300mm and models increase in size from there up to 500mm x 500mm (see my CR-10 S5 review here).
Parts and Build Quality
Prusa has the edge on parts, that is where some of the additional $ you are investing goes. The parts are legit, branded, and warrantied. That said, while everything is fully open, there are things like the beds, and even the adhesive bed sheets on the Mk2, that are difficult to source beyond the company.
Everything on the CR-10 is pretty much generic, so while the quality is cheaper, sourcing parts is easier.
Support
The other part of the equation in terms of where the extra money goes is in support. Prusa has great official, live support, the CR-10 not so much unless you pay extra to buy from a good reseller (I bought my printers from Tinymachines and MacEwan for this reason).
Features and Ease of Use
Your CR-10 is going to work and work well, but it is a bare-bones printing experience. I kinda like that it has just enough technology to print, but I have a lot more experience printing and more tolerance for nerding around than the average printer buyer. It comes almost fully built.
Prusa is continually innovating and those innovations both in hardware and software make it into their machines and slicer software.
Because Prusa control the hardware, firmware, and software, they will make it easier to print anything you like, print it well, with whichever materials you wish, because of those added ease of use features and their own easy to use software. The Prusa i3 kit is very nice to build, but you can also get it entirely pre-built.
The CR-10 needs an extruder / hot end upgrade before you can print hot (due to the PTFE liner) or reliably print flexible filaments at anything but the slowest speeds. The E3D v6 on the Prusa handles whatever you throw at it.
Print Quality
There is very little to distinguish between the two printers (once you have a good slicer profile) for all but the most obsessive 3d printing nerd 🙂
Conclusion
If you want something that is going to reduce the inherent hassle of 3d printing, look to the Prusa. If you are more of a tinkerer, or on a tighter budget, go with the CR-10.
Building big? Go with the CR-10.
Need it to absolutely, definitely, print well every time? Go with the Prusa.
Building a print-farm? You could buy two CR-10 printers right now in case one goes down and still have change from $1,000.
Absolutely brand new to 3d printing? Go with the Prusa.