I have had several CNC machines for a little while now and I just bought a brand new one, so I felt it was long overdue that I offered some thoughts on the Sienci Mill One which is what really got me into CNC.
The Sienci Mill One is a partially-enclosed desktop unit, so not something for building furniture, etc. Think of it as something to learn on, good for props, tabletop terrain, Arduino enclosures, that kind of thing.
While I bought this machine, 3DPC and 3D printer chat (sites I also write for on occasion) were independently and without my knowledge sent free review machines.
These findings are based on my experience of the one that I purchased, which may be different to the review machines they were sent and tried out.
Sienci Mill One CNC DIY Kit
What you get when you buy the Sienci Mill One is the wood (MDF), metal, electronic, and plastic parts, plus the instructions to put it all together.
What you do not get is the router itself, that is purchased separately. Factor in $100–150 for a good router. I bought the Makita as suggested on the site.
Seeing as this is open source, you could say the instructions and support are really what you are purchasing.
Parts-wise nothing in the box is outstanding quality, it is all the kind of thing you would expect from overseas online stores, which is how they keep costs down. The Arduino and CNC shield are especially low-quality and you might consider buying legitimate versions if you plan to use yours heavily.
Building the Sienci Mill One
The instructions are excellent (the company responds well to customer feedback) and everything goes together well, apart from you might need to re-tap holes. There are a couple of places where the parts don't quite line up successfully without some persuasion.
Unfortunately, I got all the way through the build before I realized I had purchased an anti-backlash kit with no idea how it fits and no energy to take everything apart again!
Using the Sienci Mill One
The Sienci has a regular Arduino CNC setup so it is standard fare for anyone who has experience of these machines. For people new to CNC the instructions are again great, plus the Sienci folks are helpful and eager to get you moving.
There is no dust collection, have your shop vac handy.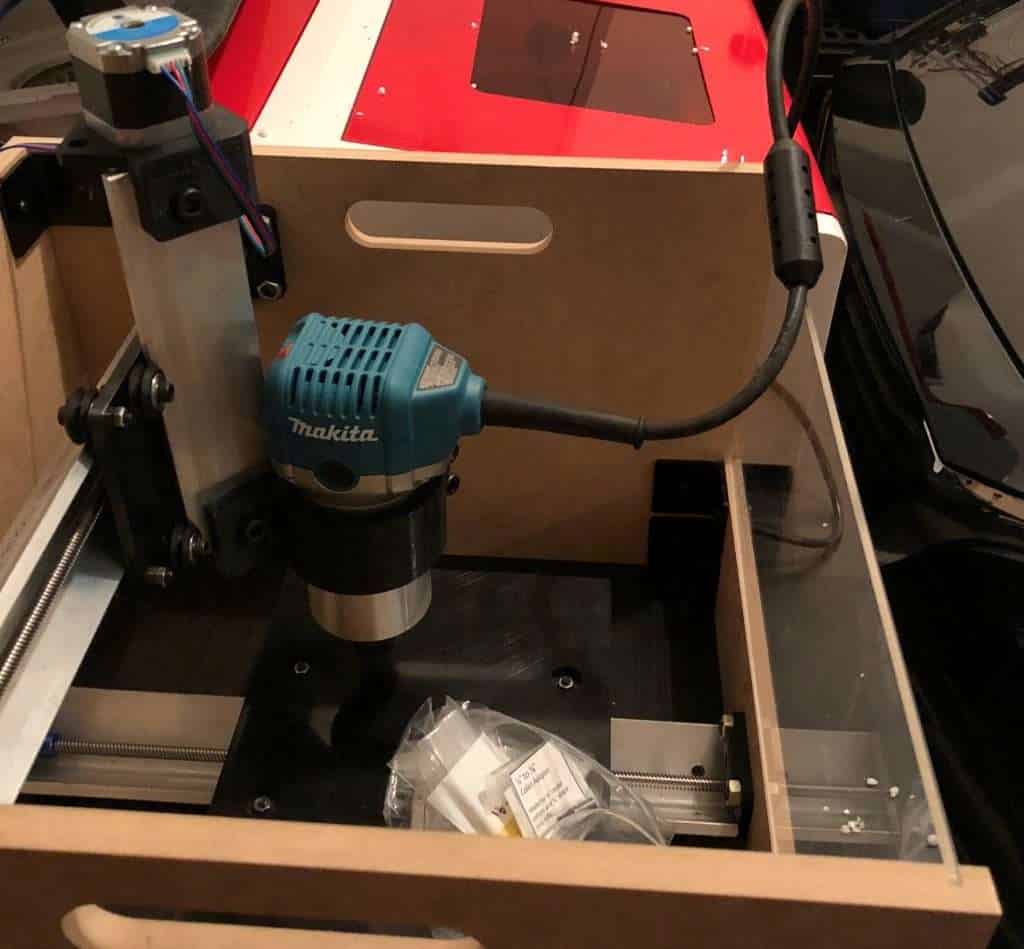 Sienci Mill One Pros and Cons
My machine lived at the Fuse33 maker space in Calgary for quite a while and got given a lot of abuse, but it fared very well. As a machine for learning/teaching on, that can be easily maintained, with no expensive, proprietary or difficult to acquire parts, while still having customer service, it is at a sweet spot.
Don't expect to be able to do precision work on this machine (which is the main reason for me to buy an expensive new machine), but it is great at chewing through every material I threw at it, even soft metal!
Yes, it is open source so you could save a lot of money by gathering the parts yourself. The biggest purchase you have to make yourself anyway! But that is not the point, by buying from the company you support their efforts, and you get access to their support.
For more work area, check out the Longmill from the same company.
As mentioned, recently I upgraded to a far more expensive pre-built machine which is more fully enclosed that I can use indoors. I will write about soon. The Sienci Mill One design seems to attract dust into hard to reach areas and throws dust everywhere, plus it is LOUD.
Bottom Line
For $576.41 CAD I found it good value, sitting between the T8 chinese CNC, and the X-carve in price, quality and capability.
While Sienci is right now focusing on the Longmill, perhaps they can be persuaded to offer a new version of the Mill One, or maybe just the designs?